Motorized Window Shades for Seamless Light Control
Add More Appeal to Your Home With Sophisticated and High-Performance Smart Shades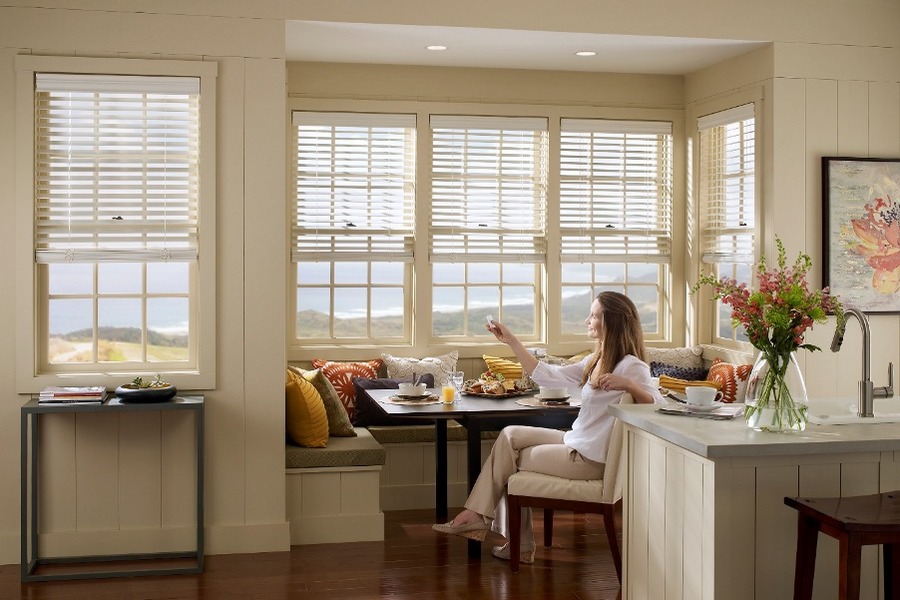 Take control of the shades in your home in Bellevue, WA, with the simple touch of a button. Lutron motorized window shades allow you to darken or brighten a room remotely. Easily raise and lower them on your smart home tablet, mobile device, or wall keypad. You can even integrate a voice control device and manage them with your voice! It's that easy. No messy cords to deal with or furniture to navigate around. With motorized shades, you get the most out of your space while adding luxury to your life.
If you have a smart home, then it's time to make your shades smart as well. Window treatments by Lutron are well known for their performance as well as their stylish designs. Add luxury and convenience to your life by upgrading to smart shades. Find out more by reading our blog.
SEE ALSO: 3 Exciting Benefits Of Smart Lighting Control
Seamless & Sleek Control
Before TV remotes, homeowners had to get up to change channels, turn up the volume, and even adjust their screens' color and contrast. Today, they do everything without leaving the couch. The same is true for motorized shades. Right now, you open and close your shades many times throughout the week. But wouldn't it be convenient to do it remotely or even automatically? Eliminate the chore with smart Lutron shades.
By inputting digital controls directly in your smart device, you take command of your shades as well as your lights. This single, intuitive interface gives you complete control of the lighting in your rooms. Because Lutron shades integrate with your smart home system, you can program timers, sensors, and other components for hands-free operation of your smart window treatments.
Elevate Your Home's Ambiance
Not only are motorized shades smart, but they look stunning, elevating the classiness of your home. Lutron features extraordinary motorized shades, such as their Palladiom series, that come in many colors, materials, and designs to match your taste. Choose from timeless, classic window treatments to solar screens, blackout shades, and decorative fabric. Their shades strike the perfect balance between performance and aesthetics.

Even the hardware looks good! For instance, the Palladiom line has elegantly finished brackets that are available in different colors: satin nickel, black anodized, clear anodized, and pure white. The shades are the perfect fit for nearly any residential window: 20" to 144" width and 12" to 144" height. In addition, when you operate the shades, they are whisper quiet due to their advanced technology – built to be seen, not heard.

Want to learn more about motorized shades and smart lighting from Lutron? Call Distinctive Audio & Video at (253) 353-4432 or click the "Contact Us" button to the right of the page to get started.

No video selected.